AR and VR – harness innovation in the digital world for real-world impact on your organization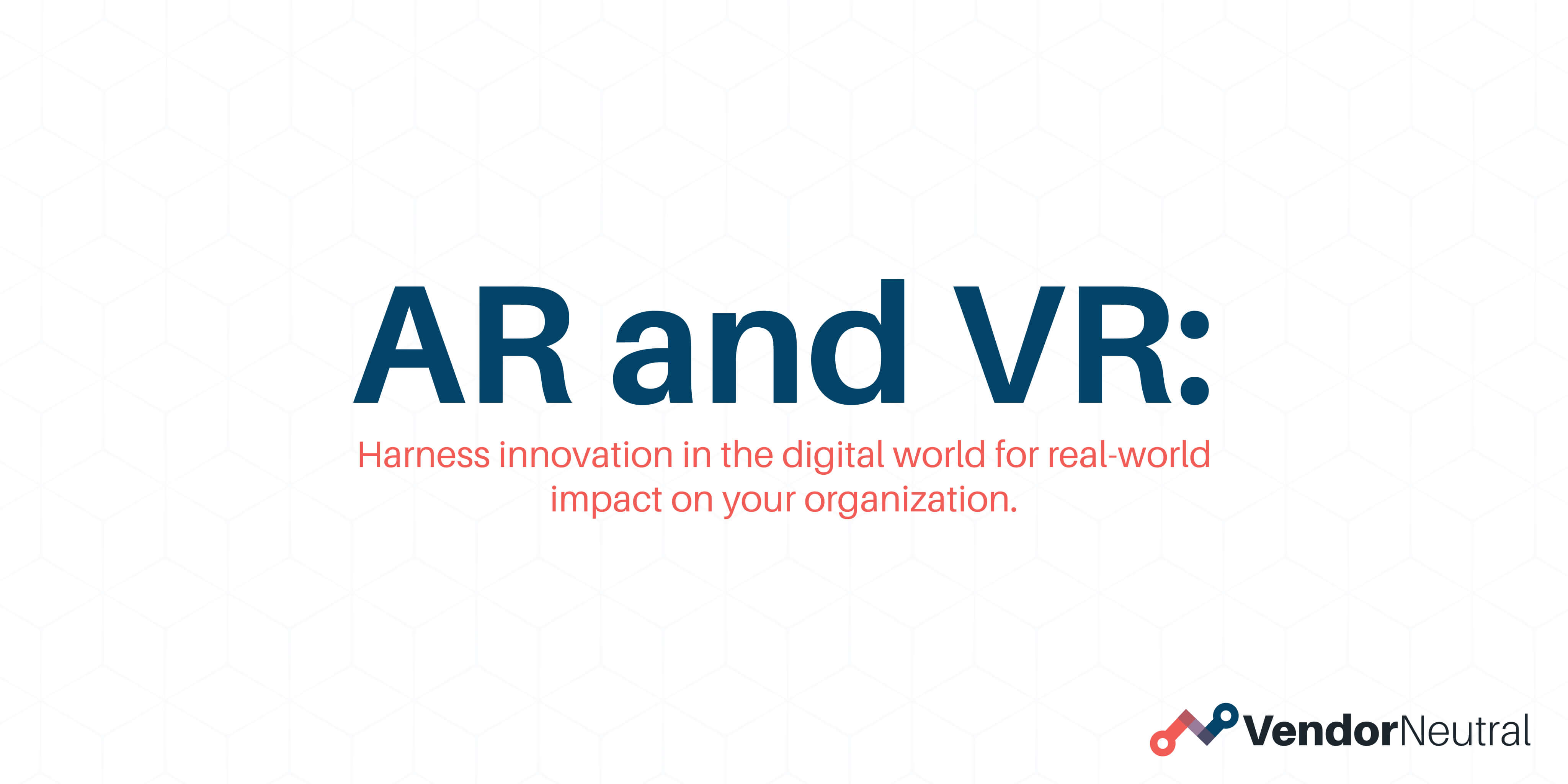 AR and VR - harness innovation in the digital world for real-world impact on your organization
Science fiction has often been the precursor to scientific reality
Science fiction has often been the precursor to scientific reality… and the idea of science breaking the barrier between the physical and digital worlds – accessing a virtual reality (VR) or augmented readily (AR) – is no exception. First depicted in a 1935 sci-fi novel, the promise of the innovation of VR has been capturing imaginations for almost a century. 
But why should your organization care?
Worldwide spending on VR was worth $12 billion in 2020 – by 2024 it's estimated to hit $73 billion. 
And that 508% increase in just five years – a CAGR of 54%… ? 
That's the world waking up to the potential of this digital innovation. 
And an ever growing group of CEOs are realizing its value around operational efficiency, or even safety, within their organization. 
According to VR statistics for 2022, the implementation and development of VR in engineering can reduce model design time by 10%, and construction time by 7%. The work processes or business challenges that VR can improve or resolve offer new ways to grow into a digital world which benefits our own.
The reality is that the digital world is already intrinsic to the physical one… and embracing the next leap forward will take your business forward too.
Let's see how…
Reality, enhanced: VR, AR and MR
 'Extended Reality' refers to a group of technologies that overlay, expand or even replace our physical world with digital elements. From being transported to fantasy-worlds by wearing headsets, to using Instagram's filters, extended reality has come a long way since the US Air Force's flight simulators of the mid twentieth century. 
And, although related, virtual reality (VR) and augmented reality (AR) are discrete. 
Today, the most common tools for experiencing VR are headsets or HMDs (head mounted displays) and for AR it's mobile phones or tablets. However, in the near future, companies such as Apple and Meta will be releasing AR glasses that will look like ordinary glasses.
But what are the differences between these digital experiences?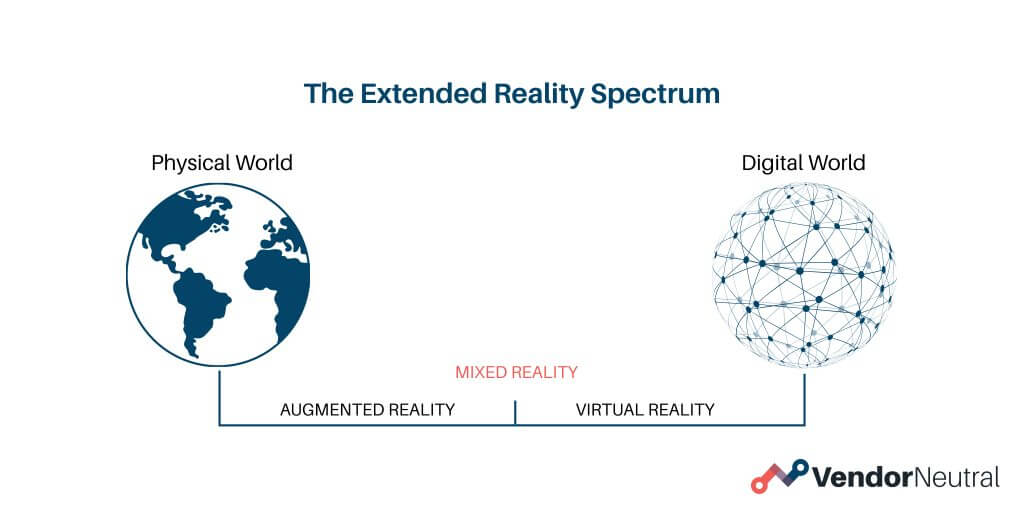 VIRTUAL REALITY
VR is completely artificial and controlled by a system – it's a computer-generated simulation you step into. The user is surrounded by an entirely new virtual environment. 
Although, to date, this has more commonly been seen in gaming – VR gaming revenue is set to double to $2.4 billion in two years – VR has commercial and behavioral applications too… and the share of alternate uses of VR is growing. 
Down from 78% in 2017, 56% of market experts predict gaming to be the dominant source of investment this year. 
E-commerce is one such VR growth sector. 
Stats for 2022 show VR experiences in e-commerce can significantly influence the purchasing decision of customers: boosting online shopping conversion by 17%. For comparison, the average eCommerce conversion rate is 2%. 
And it's not just in already digitized spaces that VR can have an impact. The retail store Walmart has used VR training on a large scale to train its employees.  
Andy Trainor, Walmart's senior director of Walmart U.S. Academies explains its impact: "When you watch a module through the headset, your brain feels like you actually experienced a situation. We've also seen that VR training boosts confidence and retention while improving test scores 10 to 15 percent – even those associates who simply watched others experience the training saw the same retention boosts."
VR increasing altruism? It appears to. Research by Stanford scholars showed that people who experienced a 7-minute VR piece on homelessness were more likely to sign a petition for affordable housing than those who interacted with written/2D media on the same topic. 
Virtual reality seems to encourage empathetic action in reality.  And it certainly encourages spending.
AUGMENTED REALITY
AR enhances the actual physical world using digital visual elements: a good example of this is Niantic / Nintendo's AR mobile game, Pokemon Go where, using an iOS or Android device's camera, the Pokemon appear in the real-world environment a user is in at the time.  
As AR is often experienced through a user's phone, rather than a headset, AR is more commonly encountered by those casually interested in the tech: VR adoption stats for 2020 showed that there were 57.4 million VR users in the US and 90.9 million AR users.
MIXED REALITY
Mixed reality (MR) sits between VR and AR on the extended reality continuum – a blend between the digital and physical worlds. 
Here we see a hybrid physical / digital space… holograms, typically, existing within our own living spaces as representations of people, as apps or as 3D objects. 
Example uses of MR include a mixed reality cooking app positioned above a kitchen island with a recipe displayed, or mixed reality annotations placed throughout a factory to give workers information or safety warnings.
Beyond Gaming
As we've seen, the potential utility of VR/AR/MR transcends a single sector. And everyone's waking up to it. 
An analysis from MarketsandMarkets predicted an annual AR/VR investment growth rate in the health sector of 30.7% from 2017 to 2025. In retail, Shopify data showed that products having AR content had a 94% higher conversion rate than products without AR.
In terms of sectors that are actively using VR in everyday practice, architecture, construction, manufacturing, retail, and healthcare are the leading fields. Let's explore some use cases.
VR and AR in the Real World
Three broad capabilities of AR technology are its ability to help us do the following: Identify, Visualize, Instruct & Guide. 
Identify
AR allows businesses to provide an extra layer of information on the physical world. AR markers on objects can trigger the display of visual information. For example, an AR marker on an office building could launch a short video that identifies the businesses inside the building and encourages users to explore more.
Visualize
AR can place virtual objects on top of the real world so customers can "try before they buy". For example, Ikea's AR app lets you place furniture in your home to see how it looks with your existing space. Similarly, the eyewear company Warby Parker, offers an AR app that lets you visualize how different styles of glasses will look on your face.
AR applications can also provide a kind of x-ray vision, revealing internal features that would be difficult to visualize otherwise. For example, HVAC companies are using AR applications that allow users to look at a wall and see the infrastructure of pipes and electrical systems behind the walls based on blueprints.
Instruct & Guide
Traditional instruction manuals are print-based and 2-D. AR allows you to create 3-D instructions that can allow users to follow step-by-step instructions in a hands-free, just-in-time learning environment as they interact with holograms that provide a more engaging source of information. 
MANUFACTURING REALITY
We're genuinely excited about this hardware / software impact across many sectors, but we think manufacturing is about to experience a VR/AR revolution. 
Let's walk through the applications we see this tech having the most impact in the manufacturing space.
1. Training 
According to one of the world's experts on VR, Jeremy Bailenson, from the Virtual Human Interaction Lab at Stanford, virtual reality is: "an epic win for training scenarios that involve doing something." 
Bailenson also coined the acronym "D.I.C.E." – Dangerous, Impossible, Counterproductive, Expensive and Rare. It's a helpful way to think about situations where training with VR makes sense. For example, simulated fire events for firefighters, virtual field trips for sports teams or hospitality workers. 
Or, as the Harvard Business Review reports, in complex training for large-scale manufacturing procedures – such as at Boeing. Implementing AR training at the aircraft manufacturer has had a dramatic impact on the productivity and quality of complex procedures. 
In one Boeing study, AR was used to guide trainees through the 50 steps required to assemble an aircraft wing section involving 30 parts. With the help of AR, trainees completed the work in 35% less time than trainees using traditional 2-D drawings and documentation.
2.

Inspection
Inspection is another area of manufacturing that is seeing large benefits from AR. For example, in shipbuilding, inspection engineers traditionally had to constantly compare the actual ship with complex 2-D blueprints. But with AR, they can now see the final design superimposed on the ship (sometimes referred to as a "digital twin") which reduces inspection time by 96%—from 36 hours to just 90 minutes. Overall, time savings of 25% or more are typical for manufacturing tasks using AR according to the Harvard Business Review.
3. Servicing
The service business units associated with manufacturing are also benefiting from a use of AR technology known as "Remote Assistance". When a service technician is in the field visiting a piece of equipment they can use the camera of their mobile to share a live video feed with a remote expert who can annotate on top of the video and guide the technician to the key components that will help them provide the best service. Two leading AR authoring tools in this field are "Remote Assist" from Microsoft and "Vuforia Chalk" from PTC.
4.

Safety
At Ford, VR is used to capture human movement during equipment assembly through motion sensors to re-engineer movement to decrease risk of injury and increase productivity. The result? A 70% drop in employee injuries. B
5.

Sales
In terms of manufacturing sales, AR already provides the capability to create 3D digital prototypes that can speed up the manufacturing process. For example, the product Jigspace has been used by manufacturers such as Medtronic and Alfa Romeo to share AR holograms of upcoming products with their customers.
6.

Networking
VR is also being used at trade shows by large HVAC manufacturing companies who create simulations that let users enter an immersive experience where they can virtually walk around a large air conditioning unit and explore the component parts on the outside and inside before the final product has actually been shipped.
Step into Reality
Whilst the implementation of any new software or tech can be daunting, perhaps VR/AR is more so: it can feel so, well, unreal. 
But let's be blunt: companies are already reaping the benefits.
75% of Forbes World's Most Valuable Brands have invested in some form of AR/VR experience.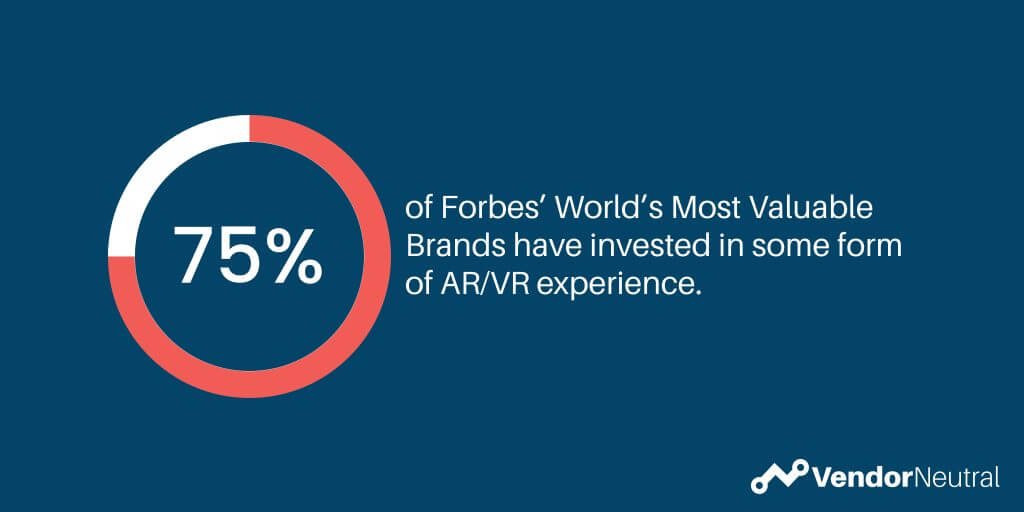 These organizations are actively looking forward and looking for ways this technology can improve their processes… 
So get creative. How can you step into the extended reality?
First, download our road map to adopting new sales tech to ensure you're ready for the journey. 
And discover how we see AR / VR tech enabling your organization's next evolution on a discovery call. 
We're working with a multinational manufacturing organization with a multi-billion dollar revenue to enable the onboarding of AR / VR technology… and we can use this learning to help you do the same.