Enhance Organizational Resilience through Sales Tech Strategy Excellence
Enhance Organizational Resilience through Sales Tech Strategy Excellence
After months of the sales tech sector being spent in a state of nervous apprehension, the good news is: we are now pretty certain what's coming.
There's a 98% chance of a global recession, according to research firm Ned Davis: pretty much every trusted source we're encountering is using the term, or at least acknowledging a global, and entrenched 'downturn'. 
Why is any of this 'good' news for sales organizations? 
Only that this reality is going to force us to get off the fence, stop fire fighting and start building long-term and robust organizational structures to weather the stormier economic times ahead. 
Everything from your CRM to your supply chain is on the table as we work towards organizational resilience in the face of recession. For affirmative actions you can take now to not only protect your people – and as much as possible your profit – but also pivot to a resilient and growth mindset, read on.
Shock upon shock is blocking economic growth, so says the International Monetary Fund. 
"Global economic activity is experiencing a broad-based and sharper-than-expected slowdown, with inflation higher than seen in several decades. The cost-of-living crisis, tightening financial conditions in most regions, Russia's invasion of Ukraine, and the lingering COVID-19 pandemic all weigh heavily on the outlook."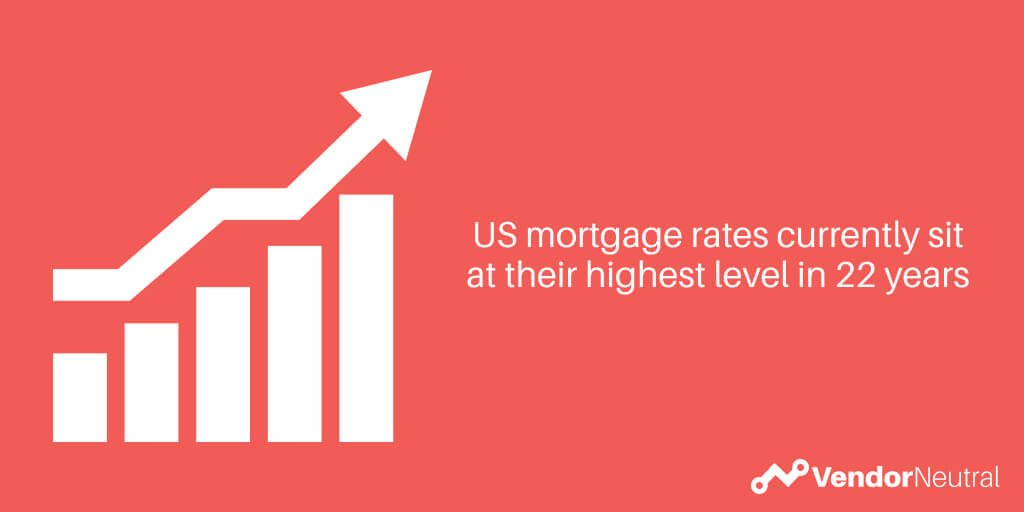 A Bloomberg survey of economists saw the median chance of recession jump from 30% to 47.5% in just a month – and that was back in July. Similarly, Wells Fargo has changed its outlook from an economic "soft landing" to a "mild recession" in the first quarter of 2023.
But what does this mean on the ground: for your customers, for your employees?
Inflation is up and the Federal Reserve has pursued an assertive campaign to rein it back, through successive – and historic – hikes in interest rates.
The notoriously sensitive housing market has reeled – mortgage rates currently sit at their highest level in 22 years. 
Eventually, the Fed's policy should cool inflation and bring costs down (there are already some signs of this, improving the picture into 2023), but right now consumers are in a vice – squeezed between high borrowing rates and high prices. In short, the purchasing power of the average American has been crippled: disposable income for many is suddenly a luxury of the past. 
And it's not just America, the IMF report on the cost of living crisis, published last month, notes that global growth is forecast to slow from 6.0 percent in 2021 to 3.2 percent in 2022 and 2.7 percent in 2023. However, it's advanced economies that see the most marked % change in GDP growth. 
The US? Stalling from 5.7% in 2021 to 1.0% in 2023. 
Consumers are shell-shocked by the growing costs of goods and services – over the past 12 months prices have increased in 90% of categories. (McKinsey) 
So what's the next move for corporations?
Recession: What's the Response?
Firstly, recessions are uncommon. The US economy has been in recession just 8% of the time over the past 30 years, so it's unlikely many have a ready-to-go operational response to recession. 
But we all need to get one. 
During the last few months companies have responded to inflation with tactics like  scrutinizing operating costs and adjusting prices. But this is short-termism as we enter a recession and have to assume that rates and costs will be 'higher for longer'. Although this is a bitter pill to swallow, it's at least a stable basis on which organizations can plan upon. 
From McKinsey: "In a higher-for-longer environment, companies should […] be thinking about structured solutions that will not only manage costs but also build resilience and can drive long-term value creation."
Yes, you read it correctly: whilst the economy shrinks, you could grow. 
Let's explore how.
Change favors the brave: do things differently
Leading companies react to change rather than run from it: turning challenge into opportunity through decisive action. 
This, though, requires certain attributes already established in the organization: aspirational leadership, aligned teams and business units and commonly understood strategic goals for the business. 
Time and again we see business' growth stymied by lack of strategy. Oftentimes this lack of core clarity – of corporate chaos – is covered with patchwork bandaids in the form of sales tech software. 
This sales tech web of confusion sees unknowing installation of overlapping solutions – creating spiraling costs and inefficiencies, whilst degrading business intelligence and ultimately stifling its success. 
McKinsey reports that a typical company grew by only 2.8% per year in the ten years preceding COVID-19.
Growth, then, is not typical for most – and misaligned, underused and inefficient tech is often responsible for creating an unhealthy environment for it.
Scrutinize Technology and Think Strategy
Old, inefficient technology can put your organization at risk in calmer economic waters, not least in a recession. 
Rather than cut staff or services, turn your attention inward. What sales and operations challenges have your business been facing and in what ways can you tackle them? How can technology help… ? 
We break down a few areas for your scrutiny.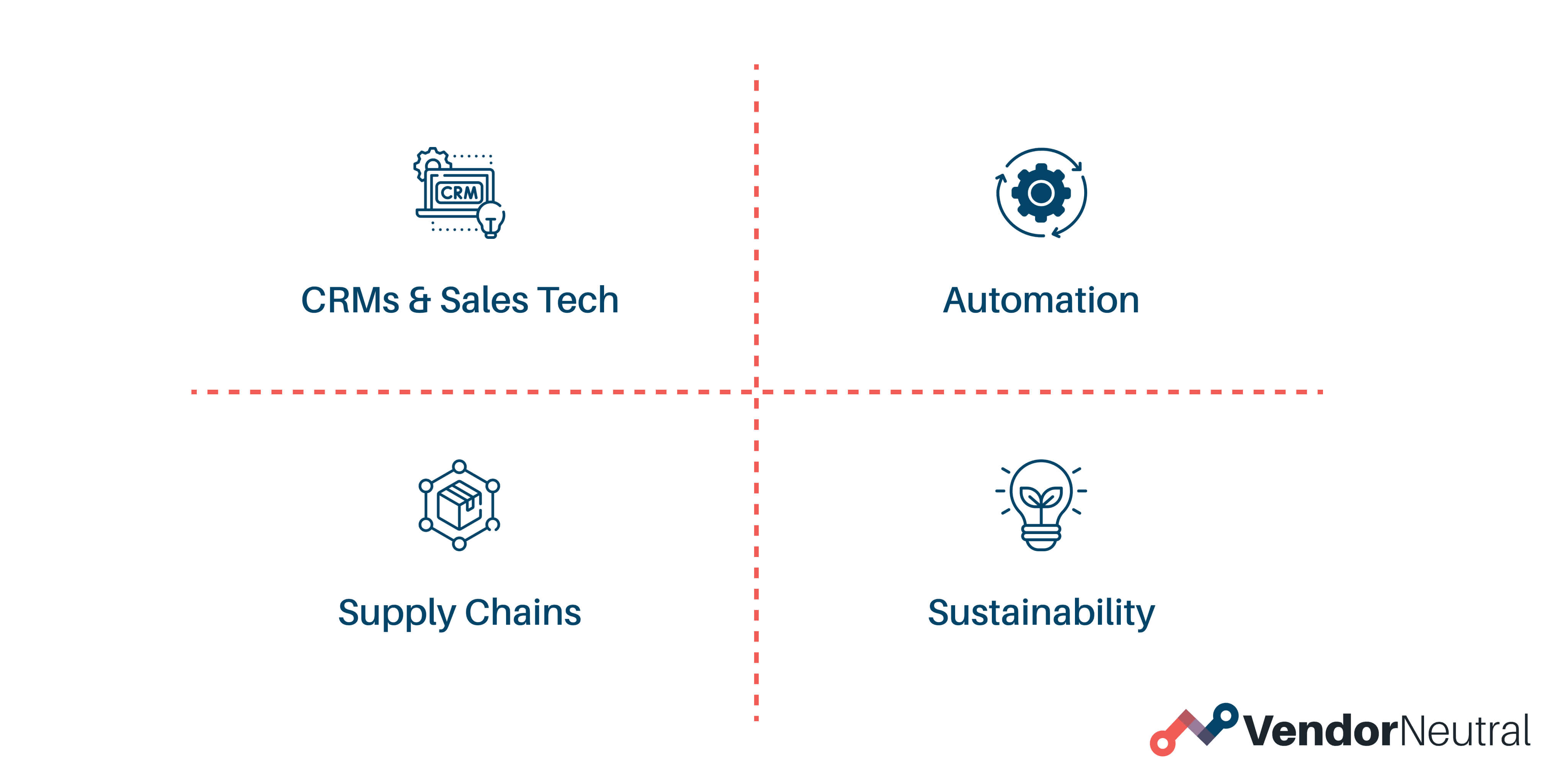 CRM and Sales Tech
Streamlining your sales tech stack is a sure-fire way of increasing operational efficiency. Not only in the direct savings of unnecessary subscriptions, but by increasing operational clarity. Embracing a data-driven culture begins with a healthy CRM. 
Check in on your team's opinion of your CRM: is it working for them? Is it giving you the KPIs you need to plan ahead? Only 47% of all sales people use their CRM system regularly. And only 40% of this group use these systems as intended…
Whilst we can't control the macroeconomic picture – we can look inward and make efficiencies. One great place to start is your CRM.
Automation
43% of global CEOs see increasing automation as a core technology response to the global economic picture. 
A recent survey suggests that automation could handle 30% of regular work activities in customer service, sales, marketing, finance, human resources, and IT.
30%? That's the equivalent of 2.4 hours A DAY. 
How could you utilize your team more effectively with the gain of an extra day a week with work that's higher impact and more strategic? 
Investment in tech is one way to drive growth – not least by unchaining your sales teams from low-skilled and low-impact work.
Supply Solutions
Resilient supply chains are crucial to long-term growth strategy. 

Supply chains are, understandably, a core topic for global CEOs with 53% saying their top action was making supply chains more resilient. (Among CEOs with operations in Russia, 78% cited supply chain resiliency as their top priority.)

To mitigate the effects of continued economic and political shocks – as well as price inflation, long lead times, supply disruption and delays – CEOs are turning to tech advancements to create visibility and support collaboration through the chain… one key asset in this space is Advanced Demand Forecasting. 

Traditional forecasting methods rely on historical shipment and sales data to estimate future demand. However, advanced demand forecasting uses a broader range of inputs, including real-world events and complex algorithms, to create more accurate forecasts.

As the Wall Street Journal  reports, one company seizing on the challenge of supply-chain disruption to create opportunity is apparel manufacturers, Carhartt. This summer saw the company integrating supply-chain data from third-party logistics providers into its systems. Meaning?  Its ability to redirect or expedite supply more proactively was greatly improved. 
CIO, Katrina Agusti: "Long term, the company's nascent data-science team will help build predictive models that anticipate supply-chain issues and model and evaluate mitigation options."
Sustain Sustainability
Finally, as consumers become ever more careful with how and where they spend, sustain a long-term view on sustainability. 
History has proven that the idea that companies need to cut costs at all costs during a downturn and because environmental initiatives may be resource-intensive is a fallacy. 
According to Forbes, B Corporations are self-reported to have been 64% more likely to fare well during the 2008 recession than traditional businesses of comparable size. 
Trisa Thompson, a lawyer and former chief responsibility officer at Dell Technologies: "Numerous studies show that companies with strong CSR goals and focus outperform their counterparts during economic downturns, including the 2008 recession. And they recover more quickly."
The lesson? Sustainability is actually a strategic imperative during economic downturns:
The Vendor Neutral SalesTech Strategy Verdict
Wringing our hands about the state of play isn't going to help us stay in the game. 
With honest reflection on the elements of our operations and organizations that can be improved, and careful planning around sales tech and strategy. we can all create more resilient operations. 
Here's our team's go-to moves for you in the coming weeks: 
Check in on the health of your current software vendors, not just sales tech vendors.

With layoffs spreading in the tech sector, knowing the health of your vendors (old and new) is critical. Smaller/newer may be slowing on enhancements and support in response to hard to get funding rounds. Bigger ones may be pulling back to preserve margins to keep investors happy.

Re-visit lessons learned from the pandemic.
The biggest being if it can be sold in an online fashion without human intervention, do it (see automation, above).

If teams are required to explain, explore and negotiate, make sure you can keep the good ones and ask them what software can do to help. 
Investing in your sales team during a recession is a smart way to retain your best people and limit turnover: tools which enable them to work remotely, flexibly or take more initiative in their roles could be game changers.
Start these conversations and develop a cohesive and coherent strategy to support them. 
We're not downplaying the challenges of the coming months, but we do see opportunity. As Juan Perez, CIO, Salesforce Inc. says: "During times of economic uncertainty, companies look for ways where technology can drive growth and create more economic value faster."  
If you're keen to make a decisive sales tech or strategy move to develop your organizational resilience, we can help. 
Whether in sales tech systems or strategy, our teams' expertise in sales software and consultancy will offer insight into your best next step. Reach out to us to minimize risks to your operations and lean into a growth mindset for your operations.