Why Your Organization Needs a Sales Technology Strategy
Sales Technology Strategy
What Is It, and Why Is It Key to Strategic Growth?
Sales technology can be an incredible asset to companies, but it's no secret it can also be expensive, consuming of your sales reps' time, and ineffective. Depending on the size of any given company, it's not unheard of for an organization to lose out on millions every year because they don't have a proper sales technology strategy.
What exactly is a sales tech strategy, though, and what do you need to know to see the best return on your sales technology investment?
What Is a Sales Technology Strategy?
A sales technology strategy is the cumulative processes and systems you have in place to get the most out of your sales technology. It covers every stage of the sales technology process:
Auditing your stakeholders

Creating a technology selection framework

Engaging vendors

Implementing systems to increase your sales technology adoption

Scaling and evolving the system to increase ROI
Essentially, a sales technology strategy aims to align your people, processes, sales technology, and information (or content).
Where many companies falter is believing a sales technology strategy is just about the tech. In reality, an effective sales technology strategy helps you look critically at your organization as a whole. It helps you address overarching process-, procedure-, and systems-related issues in order to identify priorities and to see the best financial return on your sales technology choices.
6 Reasons Your Organization Should Get Its Sales Technology Strategy Right
1. Reduce Sales Technology Churn
When most companies select a piece of sales technology, they identify a problem they're having in the organization. They then choose a sales technology solution that addresses that problem. It seems logical enough, but it's actually a reactionary system that leads to frequent sales technology churn.
For the greatest benefit, sales technology selection should actually be the last step, not the first.
Where should you start? Begin this process by looking inward. Identify your biggest priorities by thoroughly auditing your relevant stakeholders. When you know what they want, what they need, and what their biggest challenges are, you're better positioned to select sales technology that will have a significant, concrete, and positive effect. (With the direct input of your stakeholders, you'll also likely see better sales technology adoption.)
2. Save Your Sales Professionals Time
One of the biggest consistent complaints about sales technology solutions is that the solutions take more time than they save. While sales technology is often meant to automate processes and to save time, they frequently have the opposite effect. Obviously, this negatively affects adoption rates and, ultimately, your ROI.
To help ensure your sales technology strategy is a time saver, implement the following processes:
Audit your stakeholders. Learn from the people who will actually be using the solution every day. What are their processes? How can sales technology solutions help? 

Make sure the solution integrates with your existing framework and other sales technology solutions. When two systems don't communicate, it can lead to manual entry or other tasks that require extra time to get the necessary data from one place to another.

Put enough time, energy, and resources toward coaching and training. A system taking time from your sales professionals might simply come down to unfamiliarity with the solution.

Don't just invest in initial onboarding. Make sure you're everboarding all sales professionals for continual improvement.

Make

just-in-time learning

available. This approach puts sales professionals in control of when and how they learn. Retention tends to be higher with these systems, materials are always available when needed, and they take less time than traditional training methods.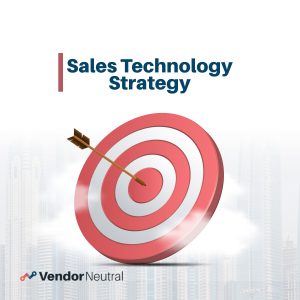 3. Improve the Customer Experience
Choose sales technology that actually maximizes your growth potential. Implement systems that provide your sales professionals with opportunities to use that sales technology effectively. When you do these two things, you can directly impact your customers in a positive manner. With the right sales technology solutions, you offer the value your sales reps need to enhance and to improve every step of the buyer's journey.
Having the right systems in place allows technology to work to your advantage. It provides the data and insight you need to ensure your reps' interactions are relevant and valuable. This can push a prospect into becoming a new customer, and it can entice an existing customer into exploring your upselling and cross-selling opportunities. 
For a more detailed discussion about how to enhance your existing account strategy, check out this on-demand webinar.
4. Create More Connectivity between People, Processes, Information, and Sales Technology
Creating a sales technology strategy is a proactive, reasoned approach to increasing the return on your sales technology investment. This strategy must integrate with and align to your overall sales organizational strategy. This alignment between your people, processes, information (content), and sales technology is foundational and essential if your organization wants the best results possible from any sales technology investment.
Especially if it's been a while since you've reassessed your sales organization strategy, this is the perfect time to get that high-level view. This will ensure you've not only aligned your sales technology to your existing processes but adapted your strategies to a rapidly changing and increasingly complex sales landscape.
5. Scale Your Business (and Profits)
When you get this strategy right and start selecting sales technology solutions based on sales processes, sales systems, and the stakeholders who actually use the technology, you create a team of sales professionals that is more efficient, productive, and effective. When that happens, you start to see the financial rewards of these sales technology solutions.
As your profits grow, you're able to expand the business itself and to scale your efforts because you know you have a sustainable, effective process for selecting, integrating, and adopting your sales technology into your overall sales framework.
6. Increase Sales Technology Return on Investment
When you don't have a defined strategy for your sales technology, you expose yourself to several possibilities.
One, you don't have the tools or framework to gather accurate and meaningful data. This means you can't assess whether a given sales technology tool is helping or hurting you. (In this instance, even if it is working, you can't gauge to what extent. This means you can't continually tweak and improve.)
Two, if you don't have a systems-level view of your sales process, sales content, and sales organization, you're liable to pick the wrong sales technology. With every passing year, the sales technology landscape gets increasingly  more populated and complex. Without a strategic framework, the odds of you stumbling on the tool that's going to meet your unique needs is low to none.
Picking the right sales technology, however, can arm your sales team with what they need to be more efficient, effective, and productive. All of this leads directly to the following:
Improved customer experience.

More prospects converting to customers.

More opportunities for upselling and cross-selling to existing customers.

Increased adoption of sales technology solutions.

More time selling and less time working with and in the sales solutions.

More revenue.
Struggling to find the sales technology solutions that are right for you and your unique organization? Start with this free sales technology selector tool. In just a few short minutes, you'll get a personalized report of sales technology suggestions based on your most pressing priorities.
Have Questions? Want to Learn More?