THE 5 BASIC LAYERS OF A GROWTH-FOCUSED REVENUE TECHNOLOGY STACK
With all the new B2B tech coming at companies today, it's hard not to fall victim to the "shiny new objective" syndrome. It's also sometimes even harder to push back on demands to "Fix it Now!" by not just throwing tech at it. The problem you run into is that implementing new tech is not addressing the real problem – people. I've said many times, alignment is not a sales technology issue, it's a people issue. Thus, continuing to adopt new tech without addressing the people part of the problem is not a sustainable approach.
With that said, let's talk about what types of tech are necessary to have a Revenue Stack (Sales + Marketing tech) that helps you sell more effectively by empowering the sales and marketing teams. I think it's more important for us to focus on the categories of tools we need before diving into trying to determine the best vendor to use. Taking this approach allows the company to clearly understand where technology gaps exist. I think doing this type of tech audit before making purchasing decisions also will help to eliminate unforeseen duplication in technology which many times creates more confusion; making the selling process even more cumbersome.
Below is a great depiction of the current revenue stack landscape from Sales Hacker. As you can see the options seem limitless and they are growing. This is what is causing the "shiny new object" syndrome many B2B companies are suffering from.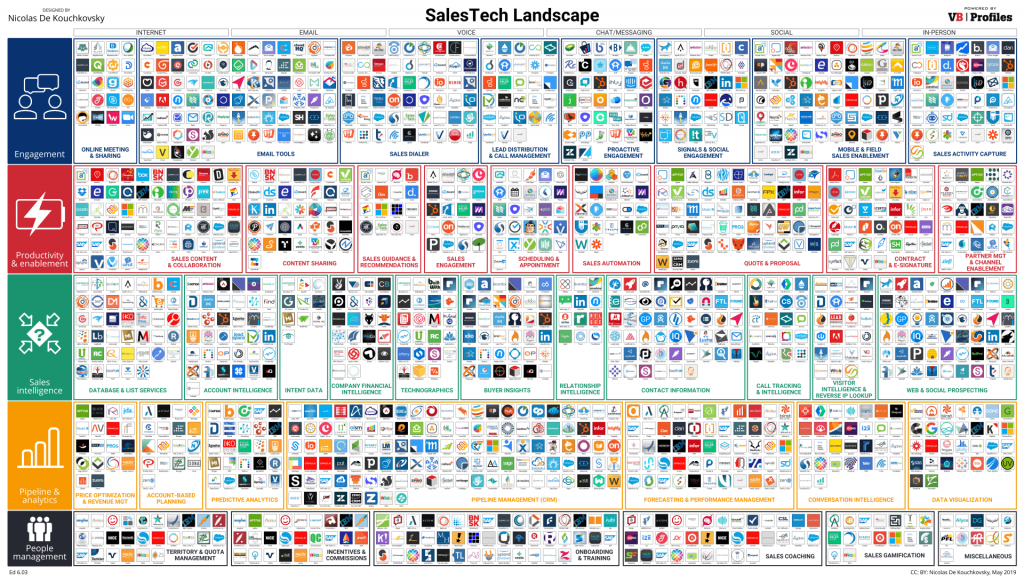 WHAT MAKES A GOOD REVENUE STACK?
I've had many conversations with experts in the field of sales and marketing tech and below are the categories that I've seen are necessary to have an effective Revenue Stack. My intent with this list to help sales and marketing leaders be thoughtful when proposing new technology to "fix" the alignment issue.
Data – Clean data is the basis of any stack as without it we make poor decisions on outdated and incorrect information. We must also take into account that on average 6.8 decision makers are involved in the decision process. Add the fact, that several members of that team my change roles or responsibilities within the sales cycle making it more difficult to create consensus. The more proactive the team can be at getting ahead of those changes, the better.
CRM – This system might be the most valuable tool that a company can use to conduct business if used properly. Customer relationships matter most and a CRM can help you keep track of those relationships as well as every touchpoint you have had with a customer. This helps paint a clear picture of what's going on and also reveals opportunities that you may have otherwise overlooked.
Marketing Automation – Beyond helping to save time and money, it's been proven to increase revenue and ROI. In addition, it allows the marketing team to focus more on an effective strategy rather than ensuring repetitive tasks are completed on time.
Onboarding/Training – Bringing in new sales representatives can be expensive and the time it takes them to ramp up to full productivity is a significant amount of lost revenue. It has also been shown that 87% of training content is forgotten within weeks. This demonstrates the need for ongoing, dynamic training. This can be achieved with tech-enabled on-boarding tools that not only allow sales reps to take advantage of on-demand training but help them be able to reference back to things they make have forgotten to get them up and running faster and provide them with a tune-up when they need it – without the need for a formal training session and time out of the field.
Account-based Marketing (ABM) – ABM has proven over time to provide significant ROI because it enables collaboration across the organization to meet the unique goals of the client. In the past, due to cost and complexity, ABM was left to large enterprises to focus on a few highly valuable accounts. Now with new marketing tech and tools, organizations of all sizes can take advantage of this highly effective strategy to personalize outreach to targeted accounts.
STOP BEFORE TALKING TO TECH VENDORS
There is a ton of new sales and marketing tech available. And, there is more coming! However, we have to stop before introducing new tech just because it exists. The more cost-effective method that will lead to better long-term outcomes is to take a step back and look at where the gaps exist in what we currently have and then find tech that helps us fill in those gaps. In addition, leaders must be cognizant of how to communicate with the sales and marketing team the reason the new tech is being introduced and how it empowers them to achieve their goals more efficiently or effectively.
Our friends over at Vendor Neutral have a free tool that short cuts your salestech selection process. You'll get a customized report instantly, showing the technology to consider based on your unique needs. Powerful stuff. We encourage you to click here if you're looking for a tool that can help you with your salestech buying decisions.
About the Author:

Jeff Davis, Founder and CEO of jd2 Consulting Group, has had the opportunity to work in several different sales, marketing and business development roles throughout his professional career of over 15 years. He combines rich experiences from these roles and takes an extremely unique approach to connecting with the modern B2B buyer that focuses on aligning these functions to create a sense of "Togetherness" and drive revenue for the organization.