Implement A Systems Approach to Digital Culture Transformation
Grow Revenue And Enhance The Customer Experience Through Digital Culture Transformation
Digital transformation is not a new concept. Digital initiatives have been on the rise in the past few years. The biggest difference is that a digital initiative is no longer just about a new technology. After a focus on digital technologies, stakeholders should now be asking how those once optimized business models, mix of cross-functional teams, focus on individual performance metrics, and a high-output workforce will maintain a competitive edge going forward.
Your organization needs to go beyond just adopting new digital technologies and instead look at digital culture transformation in depth. Your business must stay competitive in a today's fast-paced society where innovation, critical thinking and mindfulness are the norm. Your products and services must constantly evolve to meet your customer's expectations by being part of their experience. Customers have more choices than ever, and your company needs to be their best and first choice.
Organizations have learned that the combination of superb products and a high-performance culture is what makes the difference. Why? Customers continually evaluate both product and culture when they are doing business. Customers assess their experience with your company and expect quality products from a quality organization. Your company's products and culture are the competitive advantage in the market, and competitive advantage provides not just sales growth but, more importantly, revenue growth.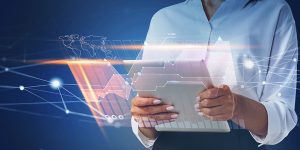 Adopt a systems approach to digital culture transformation
The key to a successful digital transformation is understanding the challenges inside and outside the business. You will need a systems thinking approach for meeting today's and tomorrow's market forces and the associated changing firmographics .
For years, organizations were built upon the business strategy (cognitive bias) that decomposing the organization by function, optimizing each function, and then cross-functionally managing the parts (only when necessary) would increase the organization's ability to be sustain a market competitive advantage and thereby be profitable.
Your organization's digital culture transformation is not a one-time event. The transformation is a systems change process and journey that needs to be managed and executed in a systematic, mindful and integrative way. It is not about optimizing the parts. It's not about getting buy-in from departments. You will need to optimize the whole organization, and you will need to engage the customer as part of the transformation. You will need to think of it in terms an ongoing evolution within an ecosystem.
Build your organizational culture to grow your revenue and customer experience
One of the most important aspects of a company is its culture. It's what makes the organization unique and differentiates it from others in the same industry. Different cultures lead to different customer experiences and, as a result, different revenue growth.
The way a company treats its customers is critical for gaining competitive advantage, which can be achieved through continuous customer satisfaction and periods of customer delight. Companies have found success by focusing on the customer experience and this has led to their revenue growth.
The culture is the environment in which people operate. It is a set of attitudes and behaviors that are shared by members of the organization as they perform every day. A company's culture is shaped by the organization's core values, strategy, and leadership. The culture is often reflected in the way leadership "walks the talk" not just by the way leadership "talks the talk."
A successful transformation starts with the company's decision-makers – usually the CEO or other high-level executives – who must decide why they want to make changes to their culture. They then must identify what needs changing, how they will assess cultural change progress, and whether they will be committed to continuous change. They need to communicate the digital culture transformation process throughout the organization so that everyone knows what is expected of them going forward. They must involve the people who do the work. It's a top-down and bottoms-up approach. Again, it's not gaining "buy-in" and it's not "selling" the change. It's about being mindful—open and aware of existing biases that might constrain a system change.
The 5 main areas of Digital Transformation
Your people are the most important aspect of your company. They make up your company's culture and will be responsible for a successful digital culture transformation. Your people exude the culture of your company.
Companies keep people involved by:
Providing them with all the information they need about what is going on in the company, how the information impacts them, how the information impacts the stakeholders, and how the information impacts their customers.

Helping them develop their knowledge, skills and abilities.

Creating a high-performance company culture where people feel welcome and appreciated.
Companies should also be open to change and ready for transformation as they grow, because otherwise they will stagnate and lose their competitive edge. Competitive advantage requires an openness to new ideas, new strategies, new processes, new information, new business models, and new technologies—innovation, critical thinking and mindfulness.
Again, your people are the most important part of your company. They are the ones who design, create, produce and maintain everything that the company does. They are also the ones who make sure that it is a good and welcoming place to work. This is why it is crucial to hire and develop employees who will work well with your company's values, beliefs, and goals, plus look forward to transforming the culture for everyone's benefit.
A digital transformation strategy is a plan of action to achieve one or more goals. It can be as simple as a two-step process: identify the opportunity, and then find the how to seize the opportunity. Your strategy must address people's motivation and means. As is well known, some people are motivated to achieve a goal while others want to know where they fit in the means that will be employed.
Your strategy might be simply articulated as: "grow revenue and enhance the customer experience through digital culture transformation." Your organization's culture has to embrace the strategy and see the obvious benefits that are derived from the strategy.
A strategy can only be successful if there is a process in place to monitor its progress and measure its success or failure. The information collected from this process should be used to make decisions about how to improve the strategy in order to get better results. Along the way, leaders have to understand where the business is going and make the best decisions accordingly – even if they're unpopular or uncomfortable at the time.
Innovation is a business process of organizational high-performance, breakthrough thinking, and continuous improvement. Innovation is not just about a new product or service, but it is also about changing the way people work and the way customers are engaged. It requires everyone to think differently and act differently—a mindset shift and a behavioral shift. It is fundamental to your digital culture transformation.
Innovation requires engaging customers in the creation, design, test, implementation and improvement stages of the innovation process. Often customers know what they need but don't know exactly how to address what they need. And customer needs can range from product functionality, to serviceability, order processing, financing, packaging, stocking, delivery, serviceability, . . . The customer list can contain one item or it can be very, very long.
You will need to be prepared for taking risks, experimenting and learning from successes and mistakes. You will need to prepare the organization for taking risks, experimenting and learning. You will need a digital culture transformation that promotes and supports improvements and growth for the company, the individual, and the customer. Your culture will need to be committed to innovation to thrive over the longterm.
Information is essential data that is waiting to be analyzed in the business context for the benefit of the organization and the customer. In today's wired world, data can be stored in digital form and accessed by anyone who has access to a digital information system, which for many is the Internet. Data can be characters, text, numbers, imagery, video, audio, geospatial and more. However, data about the organizational culture and the customer experience are typically stored in people's minds but not typically captured in digital form. This is changing with the advent of new technologies.
Your ability to analyze data for patterns, trends or other insights for innovation, decision making, customer satisfaction and delight, competitive advantage, and revenue enhancement transforms the data into business information that becomes useful across the organization. The information provides a systems view of the organization's transformation.
Over time, as your organization accumulates facts, skills and experience, the application of information becomes organizational knowledge. Using organizational knowledge and experience to make decisions in a business situation and to adapt new ideas or inventions that change the way people do things provide the basis for continuous innovation.
Your customer expects you to anticipate and meet their needs so they gain a competitive advantage in their market. Technology is a means, not an end, for your customer and your organization to meet that expectation. It is a means to increase customer engagement, expand the customer experience, chart growth in all departments, and measure profitability by customer that is inclusive of all activities. Technology enables your company to gain and maintain a strategic business advantage.
Technology supports tangible improvements when it is implemented across your organization in an integrative manner. Technology is a way to deliver your integrative strategy and processes. Plus, technology supports an information exchange with your customer as well as maintaining that exchange over time.
Today, many are exploring augmented reality, virtual reality, and artificial intelligence in their work. Others are exploring how to use technologies to help employees, with different skills and abilities, learn. However, it is important to remember that it is not about consuming the latest technologies but choosing the right technologies that support your business ecosystem.
As your company adopts technology, it will discover many technology champions inside your organization, especially product, service, and sales people who are close to enterprise customers. Those technology champions will support a transformation of cultural norms and work systems. They will promote and guide innovation using technology that is implemented in new and integrative ways, including the ability to:
create an agile and adaptive organization with the ability to implement a technology,

provide a rich user experience for customers and employees, and

enable employees to take advantage of growing technology opportunities.
People are becoming routine users of various technologies at home, at school, at play, in their community, and in their social circles. The culture of the work environment is changing to be more inclusive. Employees are more willing to share their knowledge and expertise with others. Employees are also more engaged in their work and their company when they feel part of a decision-making process that makes a difference. Technology has been shown to make the work environment more amenable to today's and tomorrow's employees.
With the help of the right technology, your stakeholders can communicate, coordinate and collaborate for growth.
An integrative approach to digital culture transformation
Digital culture transformation is not a one-time event. It is a change process and journey that you will need to lead, manage, and be part of in a systems way. Your keys to a successful transformation are understanding the opportunities and challenges and then using the right amount of innovation, critical thinking, and mindfulness for change. The integrative effort leads to a sustainable digital culture transformation.