4 Ways To Eliminate Sales Technology Gaps to Improve Revenue
Learn How to Start Seeing a Positive Return on Your Sales Technology
More and more companies today realize the potential windfall of sales technology solutions. (Why not jump at software that automates tasks that would otherwise be done manually and lowers your cost of everyday business in myriad other ways?) The problem comes with sales technology selection strategy.
Because companies aren't selecting solutions in the most strategic and effective way possible, there are gaps and overlap in the implemented solutions. This leads to dramatically decreased return on investment. Learn why these gaps are so harmful and how to improve your selection strategy to ensure your sales tech results in a net financial gain.
How Most Companies Select Sales Technology (Hint: It's the Wrong Way!)
When it comes to sales tech, most companies realize they're having a problem. Say, for example, the expense of face-to-face meetings between your sales reps and prospective clients is hurting your bottom line. They identify this problem, and then they see a sales tech solution that can solve that issue. A video conferencing option, such as Zoom or Microsoft Teams, could allow your reps to meet virtually with these potential clients.
It all seems easy enough. You have a problem; the software provides a solution.
This approach is actually the exact opposite of how you should go about selecting tech solutions. Technological features should be the last step in this acquisition process—not the first. Identifying your organizational priorities is where you should actually start. (Read more about that process here. Then, for a full breakdown of the sales tech selection road map, click here.)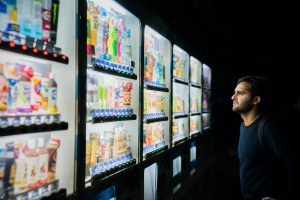 What's the Downside to Poor Sales Technology Selection?
When you select sales technology solutions reactively, you're setting yourself up for a lot of wasted money. Here's why:
Your Sales Tech Solutions Overlap in Functionality
Without the proper strategy and planning, you're going to amass a suite of sales tech solutions. Every time a problem crops up, you'll license a new solution to address it. This inevitably leads to a lot of overlap in software functionality. You'll be paying (often a lot) for multiple tools that do the same thing.
Your Sales Tech Solutions Leave Gaps
If you jump into sales tech acquisition without the proper strategy and groundwork, you could have needs you don't even know about. Because you're not aware of these gaps, your sales tech solutions will (obviously) not address them. This means your revenue potential won't be fully optimized.
Your Adoption Rate Will Be Low
One of the biggest ways companies fall down with sales tech solutions is through deployment and adoption. Depending on the size of your company, poor adoption rates can cost you millions every year. Paying for a software license for every seat at your company is a significant investment, and if people are underusing or not using your sales tech solutions, that's money you're burning every month—without a cent of return.
These Sales Tech Problems Disproportionately Hurt Enterprise Companies
Every company stands to gain financially by implementing a strategy before purchasing sales tech, but enterprise companies have the most to gain. Why?
Enterprise Companies Are Big
This seems obvious, but enterprise companies tend to have more employees. When they decide to purchase a sales tech solution, they need to invest in more software licenses. When their employees don't use that solution or underutilize it, an enterprise business loses more every month than a smaller company.
Enterprise Companies Are Often Lucrative
This seems like a good thing, but having the money at their disposal leads some enterprise companies to be less strategic with their investments. They have the money to spend, so they do.
Enterprise Companies Are Entrenched
This isn't the case with every enterprise company, but many tend to be legacy businesses that have been around for a while and cling to some outdated business practices. Working in siloed departments, for example, can lead to less alignment of your stakeholders, and that directly contributes to poor adoption. If enterprise companies want to see effective return on their sales tech and surpass nimbler start-ups, they'll need to reassess some of their overarching processes and mind-sets. (Read more about the destructive nature of silos here.)
Functionality Overlap Is Out of Control
Enterprise companies do so much on such a large scale that the opportunity for tech solutions is massive. This leads to many companies licensing a host of solutions, many with overlapping or similar functionality. While it's not always possible to entirely eliminate overlap between multiple solutions, with appropriate strategy, you can greatly minimize the financial waste this problem presents.
Whether you're an enterprise, midmarket, or start-up business, identifying your sales technology gaps and eliminating them with strategy and purpose can save you a surprising amount of money. (Most companies don't even realize how much!) To talk through your company's situation, reach out to us today. We're a trusted resource among C-suite executives across industries, and we'd love to see how our consulting services can help you!