Sales Tech and Innovation Hub: Opportunities and Limitations of AI for Sales Professionals
Sales Tech and Innovation Hub
A Critical Look: Opportunities and Limitations of AI for Sales Professionals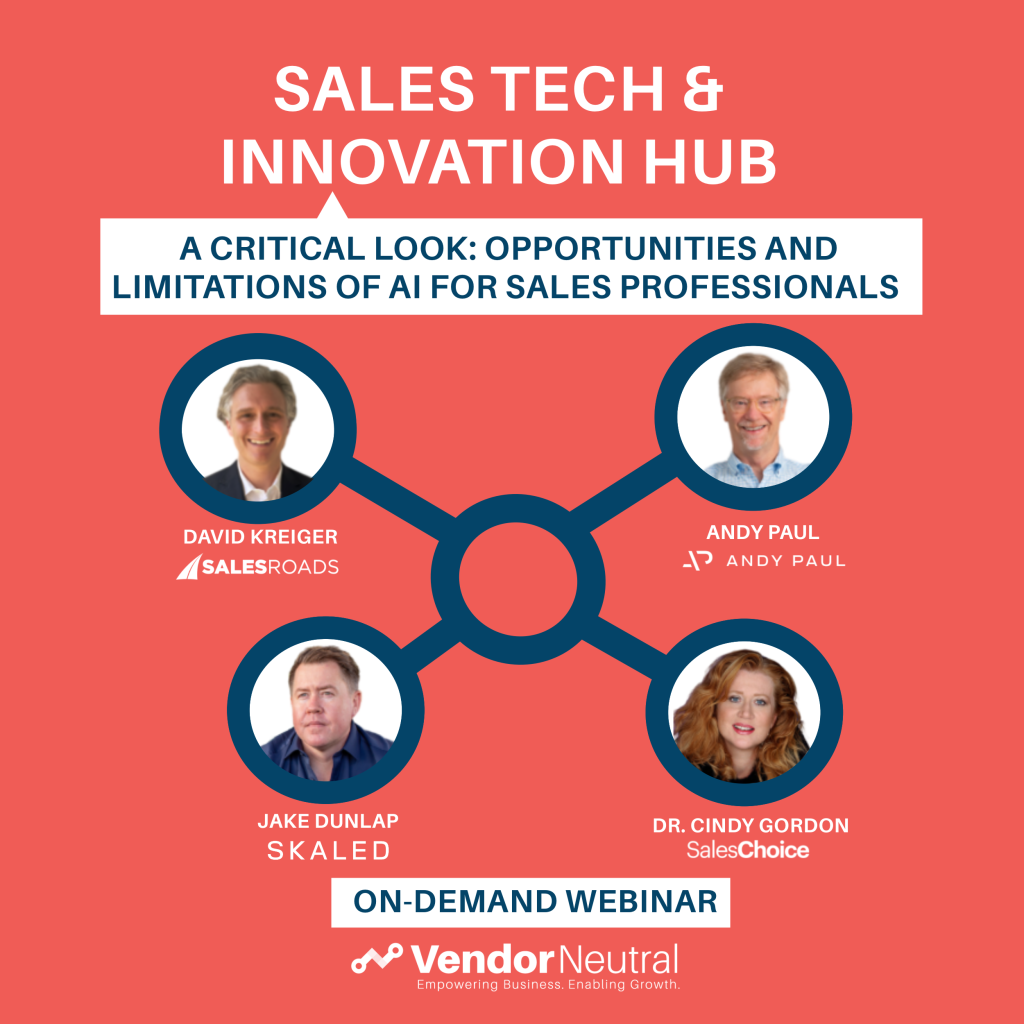 Sales professionals always seek ways to stay ahead of the competition and improve performance. With the rise of artificial intelligence (AI) in various industries, including sales, there is both undeniable excitement and growing concern about its limitations and potential drawbacks.
That's why we brought together this incredible panel to have a comprehensive and critical exploration of the opportunities and limitations of AI for sales professionals. 
 A Critical Look: Opportunities and Limitations of AI for Sales Professionals 
On-Demand Webinar 
We'll discuss:
Data-driven decision-making:

How AI-driven insights enable decision-making, leading to more accurate forecasting, customer segmentation, and product offerings 

Enhanced Customer Experiences:

AI-powered chatbots and Virtual Assistants impact customer engagement, support, and buying experiences

Adaptation and Training:

Upskilling sales teams to work alongside AI tools and how to leverage AI insights effectively

Potential Pitfalls:

Concerns about over reliance on AI, potential data privacy issues, and the importance of maintaining the human touch

Future Trends:

Potential impact of AI on future sales strategies and how you can prepare for these advancements 
We provide an informative and trustworthy analysis of how AI can enhance your sales strategies while also highlighting the potential pitfalls to watch out for. Stay ahead of the curve with this Innovation Hub webinar and make informed decisions in the ever-evolving world of sales.
Trust us, you don't want to miss this!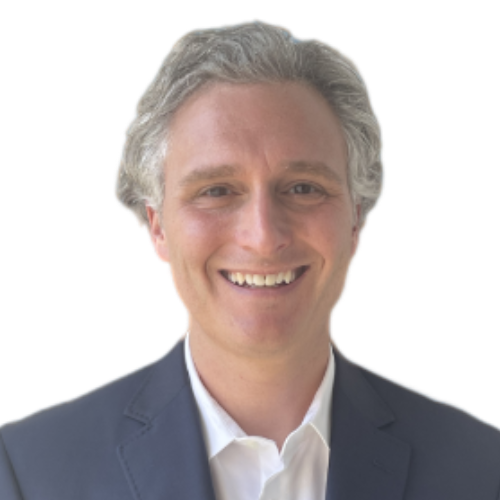 David Kreiger is the founder of SalesRoads, a sales outsourcing and appointment setting firm with over 16 years of experience. David holds an MBA in Marketing & Management from The Wharton School and a BA in Political Science and Economics from the University of Pennsylvania. David is also a contributor to Entrepreneur Magazine, where he shares insights on B2B sales and business leadership. In his spare time, he serves as a Venture Lab Mentor at The Wharton School and is an active member of the EO entrepreneur association.
Andy Paul is the host of the The Win Rate Podcast. Previously he hosted the top-rated sales podcast, Sales Enablement with Andy Paul. With more than 1200 podcast episodes produced and millions of downloads, Andy's podcasts are the go-to resource for sales leaders and top sales producers. He is the author of the Amazon best-selling book Sell Without Selling Without: A Guide to Success on Your Own Terms. Andy is also the author of two other Amazon best-selling books: Amp Up Your Sales: Powerful Strategies That Move Customers To Make Fast, Favorable Decisions; and, Zero-Time Selling: 10 Essential Steps to Accelerate Every Company's Sales. He is the founder of Zero-Time Selling; a sales advisory firm. Prior to starting his own company in 2000, Andy had a successful sales career in tech start-ups during which he sold over $600 million dollars of complex systems and services to some of the world's largest enterprises.
Cindy is an expert in Artificial Intelligence to modernize business models in B2B for both public and private companies. She brings deep expertise in SaaS, Emotional Intelligence, CRM, Predictive Analytics, AI, Data Sciences and Enterprise Advanced Analytics, with a foundation on ethical and responsible AI Practices. She has extensive business transformation and change management expertise in B2B industries in including: HealthCare, Financial services, Telecommunications and high tech to advance technology adoption and alignment practices to achieve Performance Excellence. Cindy's work experience includes senior executive and partner roles from Accenture, Xerox and Citicorp. Most recently she completed her ICD Board Certification to further advance her board director and governance leadership skills. Academically, Dr. Gordon has a doctorate from the University of Toronto ("Complexity Science and Technology".) She has also completed advanced studies from MIT on AI Business Strategy (2021). Dr. Gordon recently received an Honorary Doctorate in Applied AI from George Brown College (2023). Prior to Founding SalesChoice, Dr. Gordon was a Partner at Accenture, Senior Director and GM Xerox, a Venture Capital Partner at XDLI, as well as an AVP at Citicorp. Dr. Gordon is very active in the international and national AI communities, and is a Board Advisor for the USAII Institute training executives on AI, an AI Forum Board of Advisor, Forbes AI Board Advisor, and most recently she was an International Judge for AI Business Models at the Women in the June 2023 AI International Conference, and the Global AI Forum Conference as a Keynote. Board and Leadership Governance are key strengths of Dr. Cindy Gordon and Managing complex transformation programs. Cindy completed her ICD Board Certification and is passionate about AI ethics, transparency and strategy alignment with technology modernization programs.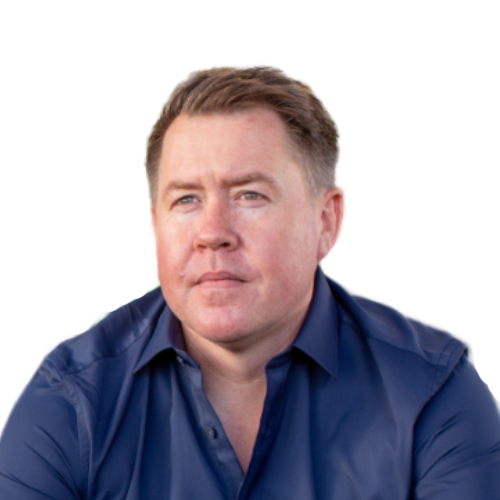 Jake Dunlap is the industry-leading CEO on Modern Sales and Revenue Trends. As the CEO of Skaled Consulting, he helps VPs of Sales and business leaders break down the complexities of scaling quickly to increase sales and gives them peace of mind through his Modern Sales Framework. Jake has worked with 1000s of top revenue leaders and teams globally, such as Microsoft, Splunk, NFL, and NBA, to modernize their sales organizations driving 100s of millions of dollars in new revenue. He was recognized internationally by LinkedIn as the only CEO in the latest Top Voices for Sales list in 2023, and his insights have been featured in national media outlets such as Forbes and Huffington Post and many leading podcasts, including the Gary Vee Audio Experience.