Sales Tech and Innovation Hub Sales Execution Success in Regulated Markets
Sales Tech and Innovation Hub
Sales Execution Success in Regulated Markets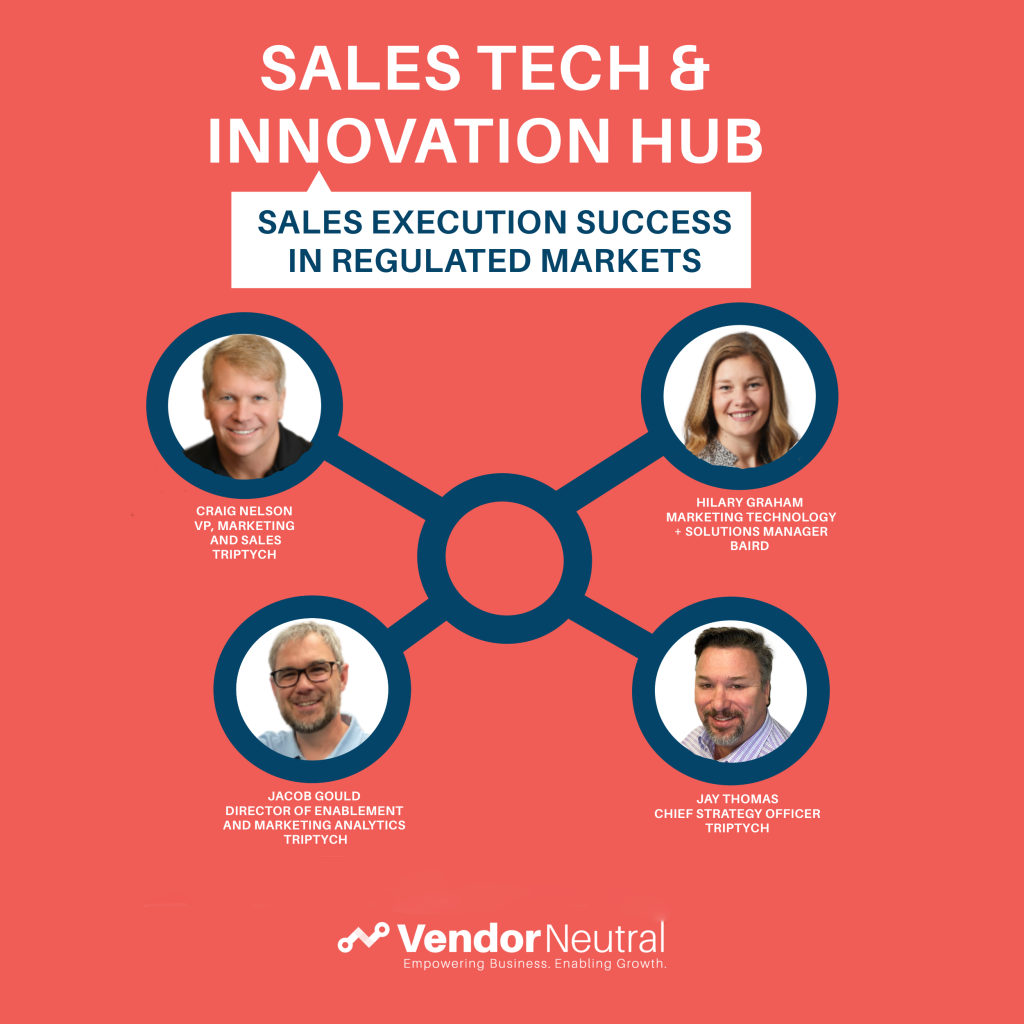 Let's Talk Sales Execution, Buyer Relevant Content, the Risk and Reward
"Forrester Research has found that 89% of B2B buyers say receiving relevant content at each buying stage is important or very important."
But not so fast; how do you deliver customer relevant content at scale and across your direct and indirect sales channels without the risk of non-compliant or off-brand content?
Join our panel of experts to talk about an approach that empowers marketing and sales with a strategy that has enabled some of North America's largest companies to maximize reward while minimizing regulatory risk.
We'll Discuss:
Employing influential and buyer-focused content at every stage of the buyer's journey.

Example use cases: achieving success in product launches, expanding sales channels, and entering new markets.

Elevating the buyer experience by delivering relevant content and impactful promotional items for immediate effect.

Mitigating legal risks, averting reputation loss, and navigating accreditation scrutiny through a comprehensive analysis of channel compliance and sales execution to enhance performance.

Recommending and refining marketing content based on sales and customer analytics.
Register today to join the discussion about how innovative sales teams utilize content to serve their buyers better and improve win rates.
Craig has dedicated his endeavors to developing and scaling technology companies, empowering them to generate profitable revenue. He has applied sales and revenue enablement principles to foster the growth of numerous startup ventures, helping to build two startups into successful publicly traded software enterprises.Currently, Craig holds the position of Vice President of Marketing and Sales at Triptych, the SaaS division of Marek Group. His primary emphasis is elevating Triptych's brand visibility and spearheading global sales initiatives.
Hilary is responsible for leading the ongoing adoption, implementation, and evolution of the marketing tools and technologies that support Baird's Private Wealth Management (PWM) Financial Advisors (FAs) and Teams. She is also responsible for the PWM marketing analytics strategy and strategic initiatives driven by PWM that require marketing strategy and support, including acquisitions, regulatory initiatives, and new products and segmentation strategies.
Jake Gould is the Director of Analytics for Triptych, a Marek owned SASS Platform. The Triptych team works with organizations who desire to measure how their marketing initiatives align with sales performance. Marketing and Sales teams rely on our analytics to determine how marketing content is being used, when it is being used, and determine sales drivers. He's also an adjunct Professor at Waukesha County Technical College, instructing courses in the Data and Analytics Program.
Over the past 30 years, Jay has lived and thrived in that combustible space between Sales and Marketing. He founded Triptych to offer a comprehensive SaaS solution, aiding teams in transitioning to consultative-based selling at scale. Specializing in B2B2C, Jay focuses on aligning sales and marketing, particularly in industries such as Health Care Insurance, Financial Services, and Manufacturing that demand regulatory and brand compliance. Jay currently holds the titles of President at Triptych Software and Chief Strategy Officer at The Marek Group, Triptych's parent company. He is passionate about being the lead business consultant for new clients, guiding them through the Triptych Implementation process to maximize their return on investment.