Innovating Your Sales System By Integrating People, Processes, and Sales Technology
Innovating Your Sales System 
By Integrating People, Processes and Sales Technology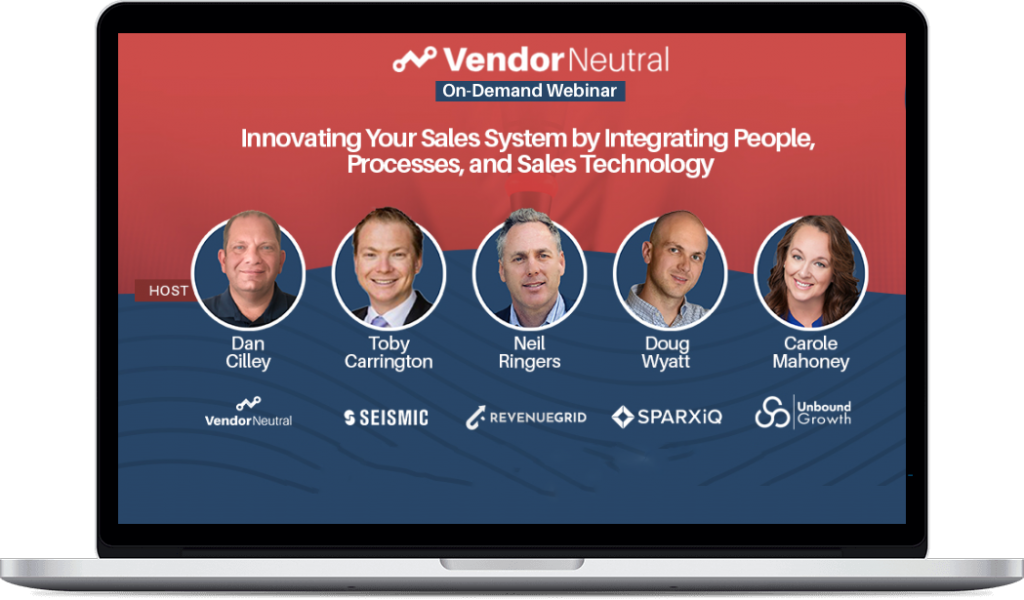 Integrating People, Process and Sales Technology
Sales executives, do you have a holistic view of your sales organization? Can you pinpoint all your sales technology overlap and gaps? Do you know exactly where you need supporting processes and content?
No? Then watch our free webinar! Learn from leading sales and business experts how to take a systems-level view of your sales organization, and start building the connections between people, processes, and technology that drive sales technology adoption—and grow revenue.
Discover why successful integration can't happen within your sales technology ecosystem without a strong auditing process that first uncovers stakeholder needs and requirements!
Dan Cilley, Vendor Neutral
Dan helps companies clear the fog surrounding the SalesTech selection process. He strives to deliver more than just systems knowledge and expertise. He understands how to maximize today's sales and marketing tools to improve customer engagement without unnecessary disruption. From planning and integration to training and support, he helps enterprise-level organizations leverage modern technology to achieve their goals and objectives. Dan is the CEO and founder of Vendor Neutral, LLC, the CEO of telemaximum, LLC, South Florida Chapter President & founding member of the Sales Enablement Society, and the President of American Association of Inside Sales Professionals (AA-ISP) South Florida Chapter. He lives in Boca Raton, FL and in his spare time loves to travel and scuba dive all over the world.
Toby is the SVP of Revenue Operations at Seismic and currently lives in Austin with his family. He is an experienced senior leader and board member across a variety of industries in the commercial and not for profit sector and prior to Seismic led Global Sales Operations & Enablement for Siemens Healthineers. He has lived and worked across multiple international assignments in the USA, Germany, Singapore and Australia in a variety of commercial and operational roles. Toby has undergraduate degrees from Monash University in Australia and an executive MBA (honors) from ESMT Berlin. He is an early stage investor and advisor in many start-ups across a wide variety of industries including SaaS, fintech, food and beverage and medical technology.
Neil is a seasoned Sales Executive specializing in building scalable teams and businesses. Neil has an excellent track record, including building sales teams for 4 companies later acquired by Yahoo, VM Ware, Blackberry and Oracle. Prior to joining Revenue Grid he was instrumental in closing Key Enterprise (multi-million dollar) Accounts in North America for Salesforce. His leadership and knowledge of CRM platforms and revenue intelligence is exceptional.
Doug Wyatt is a sales, sales training, and sales enablement leader with experience both as an internal practitioner as well as working with outside clients to improve sales results. He leads Sales and Marketing at SPARXiQ and is a co-author of the SPARXiQ Modern Sales Foundations virtual training program, released in 2021. In addition, Doug has been recognized as a Sales Hacker Top 50 award winner.
Carole is the Founder of Unbound Growth and President of the AA-ISP Boston Chapter. She has been called the "Sales Therapist" by a Harvard Business School professor where she coaches Entrepreneurial MBA students on sales. She has been featured as a top 15 Sales Influencer by LinkedIn, a Woman to Watch in Sales by Sales Hacker, and a top sales coach by Ambition. She is currently writing her first book, Buyer First; how to sell the way your customer buys, to be released in the fall of 2022.